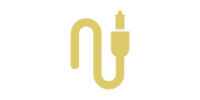 CAT-6e Cable   • Plenum   • PVC   • Shielded
Plenum-rated cable gets its name from an HVAC term—plenum spaces. The plenum spaces are those that lie between a drop and standard ceiling (or a similar version in the floor space) and it is this section where the air in a building circulates, thus aiding in heating and cooling functions. When no conduit is used, plenum cable is often required since the cable is considered to be freely installed.
Plenum spaces allow fire and smoke to travel quickly. By using plenum-rated cable, the levels of toxicity in the smoke would be lower since plenum cable is coated with a jacket that is typically made of flame-resistant material such as Teflon. This special jacketing makes the cable smoke less than regular PVC cable and the smoke that is emitted is less toxic.
Showing 1-16 of 22 results
Special Price2131

$170.00

Regular Price

$210.00

Special Price2131

$270.00

Regular Price

$310.00

Special Price2131

$370.00

Regular Price

$435.00

Special Price2131

$470.00

Regular Price

$560.00

Special Price2131

$630.00

Regular Price

$730.00

Special Price2131

$950.00

Regular Price

$1,100.00
Showing 1-16 of 22 results