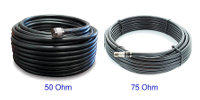 50 Ohm vs 75 Ohm: Which is Best For You?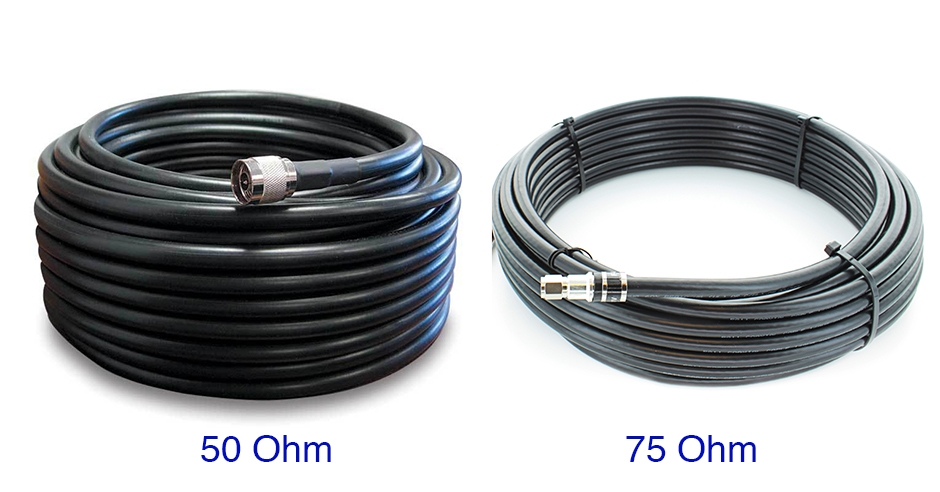 What's in an Ohm?
Most home & commercial cell phone signal boosters from Wilson Electronics & weBoost come with either these type of coaxial cables: the Wilson400 cable with N-connectors (50 Ohm) or an RG-6 cable with F-connectors (75 Ohm).
As you can see, there's a sizable difference between the two, and today we explain the key differences without jumping into the technical deep end.
In short, cables are measured by impedance, how much resistance there is to the flow of electrical energy. The smaller the Ohm, the better the performance. So a 50 Ohm cable provides much better results than a 75 Ohm cable.
So why even consider 75 Ohm?
75 Ohm: The Friend You Already Know
That's because 75 Ohm cables are the standard coax cable you find everywhere inside your home. From the back of the tv to cable & satellite tv boxes and internet routers. They're commonly used and are often pre-wired in many homes and businesses. 75 Ohm is primary used for video and audio, hence why it's rapid adoption.
So besides being a familiar standard in America, for smaller home applications, they do a perfectly fine job of transmitting signal up to 50 feet of cable with home installation topping out at 5,000 sq ft.
50 Ohm: The Big Gun
But for commercial installations with cable running 100+ feet with building sq ft coverage at 7,500 to 100,000, then a 50 Ohm cable is a clear winner. Because 50 Ohm is primary used for data, hence why it being a better cable for cell phone boosters.
The trade-off would be the much thicker cable housing and larger connectors. And since 50 Ohm cables aren't as ubiquitous as 75 Ohm cables, running cable is potentially more difficult if your building is not prewired for it. Seriously, the cable is noticeable bigger than a 75 Ohm.
In conclusion
For the absolute best, go with the 50 Ohm system. For anything under 7,500 sq ft coverage, a 75 Ohm system will do just fine.
FYI, 50 and 75 Ohm refers to the cables themselves and not the cell phone signal boosting systems. You are able to mix and match cables and connectors with any system. However, it would only lead to more decibel (dB) loss. Basically, the longer the cable, the more data has to travel therefore more loss occurs.
75 Ohm loses almost twice the amount of dB gain compared to 50 Ohm at every 10 feet. At 50 feet of cable, that's a potential lost of -2 dB gain. In normal talk, the 50 Ohm is roughly 1.6x more powerful than the 75 Ohm at 50 feet of length in terms of maintaining signal coming from the same source.