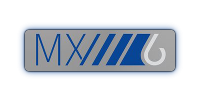 Intelligent. Powerful. Flexible.
MOBOTIX cameras now with H.264.
Mx6 uses a new, more powerful CPU with integrated H.264 encoder and follows the ONVIF standard* for video transmission and camera integration. This significantly simplifies MOBOTIX system integration. There is no longer any reason to forgo brilliant, high resolution images from robust cameras with secure data – made in Germany.
Various video formats simultaneously
The platform Mx6 ideally complements the existing x15/x25 series. The new Mx6 camera system delivers video data in up to three different formats simultaneously – MxPEG, MJPEG and H.264 – as well as in different resolutions. Our customers can choose the right codec for their application in order to achieve amazing image quality with MxPEG or use H.264 with ONVIF to satisfy compatible requirements with the industry standard. Thanks to RTSP/multicast, many clients can simultaneously access the video stream of a single Mx6 camera. All without any loss in performance.
Twice as many images
The powerful CPU of the Mx6 delivers up to twice as many images per second as before – at the same resolution. This allows for the capture of quick movements. But the Mx6 is not only faster, it also has more capacity for additional soft-ware on the camera, such as an application for license plate capture. Mx6 is prepared for the future, with regular software updates making sure system performance improves with time.