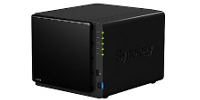 NAS (Data Storage)
Network-attached storage (NAS) is a file-level computer data storage server connected to a computer network providing data access to a heterogeneous group of clients.
NAS systems are networked appliances which contain one or more storage drives, often arranged into logical, redundant storage containers or RAID.
Specifically designed for small and medium-sized businesses who need a high-performance, easy to manage, and full-featured network attached storage solution to centralize data backups, protect critical assets and share files across different platforms.
Showing 1-16 of 39 results
Special Price2131

$274.99

Regular Price

$299.99

Special Price2131

$449.00

Regular Price

$714.00

Special Price2131

$770.99

Regular Price

$1,073.99

Special Price2131

$1,399.99

Regular Price

$1,499.99

Special Price2131

$3,999.99

Regular Price

$4,999.99

Special Price2131

$3,999.99

Regular Price

$4,999.99
Showing 1-16 of 39 results